Seneca Village was ooit de thuisbasis van een van de grootste zwarte nederzettingen in het land, en nu zal de historische site in New York City de zwarte levens eren die verloren zijn gegaan door raciaal onrecht.
Het "Say Their Names Memorial", een nationaal, grassroots-initiatief gericht op het eren van de vele Afro-Amerikanen die stierven door daden van racisme of raciaal onrecht, zal hun inaugurele augmented reality-tentoonstelling op 17 september in het Seneca Village-gebied van Central Park debuteren aan de West 85th Street. Het "Say Their Names Memorial New York", geproduceerd door het San Diego African American Museum of Fine Art, is in samenwerking met het Schomburg Center for Research in Black Culture en de New York Urban League, naast andere culturele instellingen in New York City. De tentoonstelling – die wordt beschreven als een augmented reality-ervaring die digitale fotografie, technologie en kunst combineert – zal 50 virtuele sokkels bevatten met meer dan 200 foto's van zwarte mensen die 200 jaar lang stierven aan racisme.
Personen die in het monument te zien zijn, zijn onder meer Eric Garner, Emmett Till, George Floyd en Breonna Taylor, samen met slachtoffers van de massale schietpartij in de Tops-supermarkt in Buffalo, New York, in mei. Andere "Say Their Names"-gedenktekens verschijnen in het hele land, ook in Seattle; Dallas; Portland, Oregon; en Hoboken, New Jersey.
"Raciaal geweld is sinds 1660 een duidelijk onderdeel van de Amerikaanse geschiedenis", zei Gaidi Finnie, uitvoerend directeur van het San Diego African American Museum of Fine Art, in een verklaring. "Hoewel dat geweld elke etnische en raciale groep in de Verenigde Staten heeft getroffen, heeft het een bijzonder gruwelijk effect gehad op het leven van Afro-Amerikanen, variërend van opstanden van de tot slaaf gemaakte slaven en lynchpartijen tot stedelijke opstanden en berekende moorden. SDAAMFA is vereerd om deze tentoonstelling naar New York City te brengen en op te dragen aan de voortdurende strijd om een ​​einde te maken aan systemisch racisme."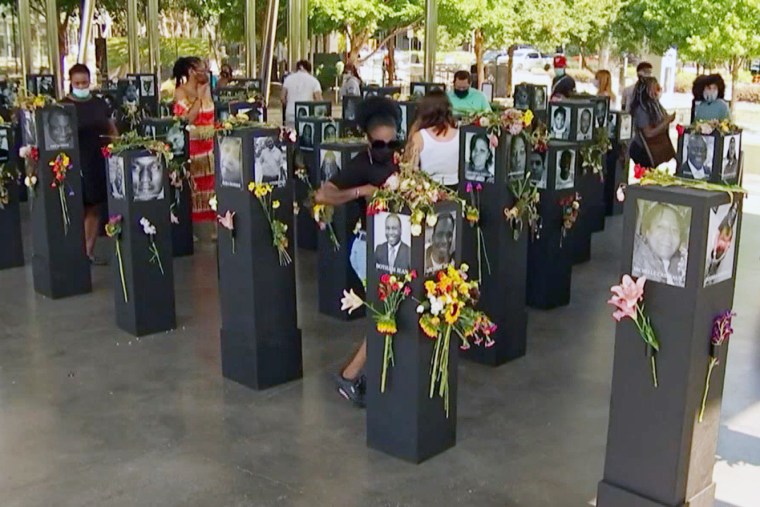 Om deel te nemen aan de augmented reality-ervaring, moeten bezoekers een mobiele applicatie genaamd Membit downloaden – een geolocatieve augmented reality storytelling platform – op hun elektronische apparaten om toegang te krijgen tot instructies samen met een ingebouwde kaart van de tentoonstelling. Via de app kunnen bezoekers lezen over elk individu en de omstandigheden rond hun overlijden. Ze hebben ook toegang tot een schermopnamefunctie waarmee ze de gezichten en namen van degenen in het gedenkteken kunnen delen.
"Een van de beste dingen die Augmented Reality kan doen, is het ongeziene, geziene toegang geven tot deze zeer belangrijke tentoonstelling door het gebruik van één enkel apparaat dat de meeste mensen bezitten: hun mobiele telefoons", Jay Van Buren, oprichter en CEO van Membit, aldus in een verklaring. "Door de combinatie van technologie en het menselijke sentiment hopen we dat deze tentoonstelling een beweging naar verandering en een betere weg vooruit zal inspireren."
Seneca Village in New York stond bekend om zijn bloeiende, effectief zwarte gemeenschap die halverwege de 19e eeuw een toevluchtsoord bood aan zwarte Amerikanen die wilden ontsnappen aan rassendiscriminatie. In 1857 werden alle bewoners gedwongen te vertrekken vanwege het plan van de staat om het land te gebruiken voor de aanleg van Central Park.
De tijdelijke tentoonstelling is geopend van 17 september tot 17 oktober.